GET A QUOTE
The fastest way to start an order is by filling out our simple Get a Quote form. This provides our team with details about your project as well as important info like shipping address, company name, etc. We typically respond to quote requests within 1-2 business days. If you haven't heard back from us within that timeframe, please check your spam folder or follow up by phone.
ARTWORK REQUIREMENTS
You can easily upload artwork when you fill out our simple Get a Quote form. If you are having trouble uploading your designs, try compressing them into a .zip file first.
Preferred file formats: Vector (.ai, .eps) – Text converted to outlines -OR- 300dpi Raster at print size (jpg, png, psd, tif)
Don't have a design or logo? Get a quote now!
PRODUCTION TIME
Our current estimated production time for most services is approx. 10-14 business days upon quote approval and payment.
PAYMENT
Upon approving your quote you will receive a payment request for secure online payment. Production begins upon receipt of payment.

SHIPPING
All orders ship via UPS Ground (Include Shipping Map image attached). idleWilde Printing Co is not responsible for delays or damages caused by 3rd party shipping companies.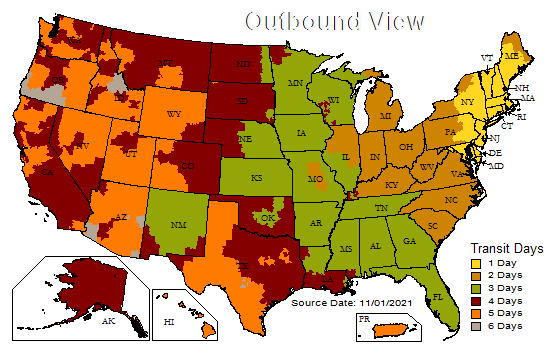 RETURNS & EXCHANGES
idleWilde Printing Company does not accept returns on custom products. In the unlikely event of a misprint or an issue with the quality of your order please reach out to your sales representative with the invoice number in question.